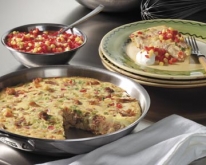 Ingredients:
Turkey Hash
4 Cups COOKED TURKEY, DARK MEAT, cut in medium to small cubes
3 Cups cooked potatoes, small dice
1/3 Cup catsup
1-1/2 Teaspoons kosher salt
1 Teaspoon freshly ground black pepper
1 Teaspoon dried thyme
1 Teaspoon each unsalted butter and olive oil
2 Cups Cheddar cheese, grated
Frittata
10 Large eggs
1/2 Cup heavy cream
1 Teaspoon salt
1/2 Teaspoon freshly ground pepper
2 Large Roma tomatoes, seeded and diced
1/4 Cup green onions, minced
As needed sour cream
Directions:
Turkey Hash
Mix turkey, potatoes, catsup, salt, pepper and thyme together. Cover, refrigerate and hold for up to one day in advance.
Heat butter and oil in an 8 to 9-inch heavy oven-safe skillet.
Add turkey hash and press down with a spatula. Fry for 3 to 4 minutes to brown the bottom.
Sprinkle cheese atop the cooked turkey hash.
Frittata
Whisk eggs and cream together for 2-3 minutes until well blended. Add salt, pepper, tomatoes and onions.
Pour egg mixture on top of the turkey hash.
Bake in a preheated 350 degree F oven for 20 minutes or until the top has just set. Let stand for 10 minutes. Slide onto a service platter and cut into wedges.
Serve wedges with sour cream and Red Pepper Corn Relish.
Recipe Source
National Turkey Federation