Caring for Their Family, Neighbors and Over a Million Hens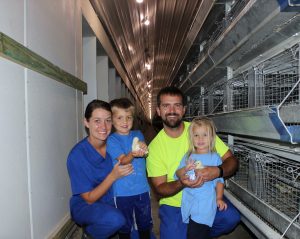 Meet Jason and Tracy Ramsdell from Flandreau, South Dakota. They're the owners of Dakota Layers egg farm. Their operation was started in 1999 and now produces over 100,000 dozen eggs daily.
Their top priority is the care and comfort of their over 1.35 million hens. With the help of their two young children, Jett and Nora, 70 employees, veterinarians and nutritionists, they ensure each bird receives proper nutrition, clean water, comfortable living conditions and constant attention.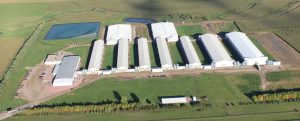 Dakota Layers egg farm in Flandreau, SD
Dakota Layers features the most advanced technology, including nine temperature- controlled bird houses, a modern, touchless processing plant and water and manure management facilities that are designed to limit the chance of any environmental impacts.
Dakota Layers employs their own Quality Assurance Team onsite and samples are also taken onsite by a USDA Egg Grader to ensure every egg they produce meets all food safety requirements and are of the high quality Dakota Layers is known for.
Families helping families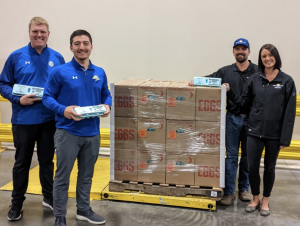 Jason and Tracy are also committed to their community and state. In addition to using more than a million bushels of locally grown corn and 575,000 bushels of locally sourced soybeans each year, they give generously to support local charities and important causes.
To date, Dakota Layers has donated almost five million eggs to Feeding South Dakota and other area food pantries to ensure those in need have a source of high quality protein. They are also active in a variety of charitable events.
Local eggs are fresh eggs!

You can learn more about the Ramsdell family and Dakota Layers egg farm at http://www.dakotalayers.com/ or better yet, head to your local grocery store for delicious Dakota Layers' eggs. All Dakota Layers eggs are on your store's shelf within 36 hours of being laid, so you know they're fresh and everyone knows local eggs are the best eggs.
Click here for some amazing egg recipes brought to you by the South Dakota Poultry Industries Association!