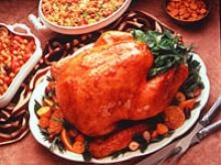 Winter Fruit Glazed Turkey
Ingredients:
WHOLE TURKEY, fresh or frozen (thawed):12 Pound
salt:1 Teaspoon
freshly ground black pepper:1/2 Teaspoon
orange, cut in eight wedges, seeds removed:1 Large
red currant jelly:1/4 Cup
orange marmalade:2 Tablespoons
anise seeds, ground coarse by mortar/pestle or a coffee grinder:1/2 Teaspoon
Directions:
Turkey Prep

Remove giblets and neck from turkey; reserve for gravy. Rinse turkey with cold running water and drain well. Blot dry with paper towels.

Sprinkle salt and pepper in the cavities of the bird. Place orange wedges in both body and neck cavities.

Fold neck skin and fasten to the back with skewers. Fold the wings under the back of the turkey. Return legs to tucked position.
Winter Fruit Glaze

In 1-cup microwave-safe glass container combine jelly, marmalade and anise seeds. Cook in microwave at HIGH (100% power) 30 to 45 seconds or until melted.

Brush glaze over turkey during last 20 minutes of roasting time.
Roasting

Place turkey, breast side up, on a rack in a large shallow (no more than 2-1/2" deep) roasting pan. Insert an oven-safe thermometer into thickest part of the thigh, being careful it does not touch the bone.

Roast turkey in a preheated 325 degree F oven about 3-1/2 hours (total roasting time) basting with pan juices. During the last 20 minutes of roasting time, baste the bird with Winter Fruit Glaze. Continue to roast until the thermometer registers 175-180 degrees F in the thigh and 165-170 degrees F in the breast.

Remove turkey from the oven and allow the bird to rest for 15-20 minutes before carving. Place on a warm large platter and garnish.
Recipe Source
National Turkey Federation