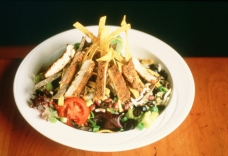 Ingredients:
Spice Crust
3 Tablespoons chile powder
1 Tablespoon dried oregano
1 Tablespoon dried basil
1 Teaspoon garlic powder
1 Teaspoon sugar
1/4 Teaspoon cayenne pepper


Southwestern Salsa
2 Cups tomatoes, medium dice and seeded
1 Cup frozen corn, uncooked, thawed and drained
1 Cup black beans, cooked, rinsed and drained
1 Each avocado, medium dice
1/2 Cup red onion, small dice
3 Tablespoons jalapeños, canned and minced
2 Tablespoons fresh lime juice
1/4 Teaspoon salt
1 Teaspoon garlic, minced

Cilantro-Lime Dressing
1 Cup sour cream
1 Cup mayonnaise
1 Cup cilantro leaves, finely chopped, packed
1/4 Cup fresh lime juice
1/2 Teaspoon garlic powder
1/2 Teaspoon salt
1/2 Teaspoon freshly ground black pepper


Turkey
4 6-Ounce TURKEY CUTLETS
1 Tablespoon Canola oil
Service
6 Cups mixed salad greens, such as romaine, iceberg & spinach, cut & tossed
1/2 Cup corn tortilla chips
1 Cup Monterey Jack cheese, shredded
As needed tomato wedges.
Directions:
Spice Crust
1. Mix together chile powder, oregano, basil, garlic powder, sugar and cayenne pepper.


Southwestern Salsa
1. Mix together tomatoes, corn, black beans, avocado, red onion, jalapeños, lime juice, salt and garlic. Refrigerate until ready to serve.


Cilantro-Lime Dressing
1. Whisk together sour cream, mayonnaise, cilantro leaves, lime juice, garlic powder, salt and pepper. Refrigerate 1/2 hour to allow flavors to blend.


Turkey
1. Brush turkey cutlets with a small amount of oil and coat with approximately 1 teaspoon spice mix per side.
2. Grill cutlets 3 to 4 minutes per side or until done or cook over medium heat in a sauté pan in a small amount of oil for the same time.


Service
1. Place 1-1/2 cups chilled mixed greens on each chilled individual serving plate and top with 1 cup Southernwestern Salsa.
2. Cut turkey (one cutlet per serving) into julienne strips and arrange on salad.
3. Garnish with tortilla chips, shredded Monterey Jack and tomato wedges.
4. Serve dressing on the side.
Recipe Source
National Turkey Federation