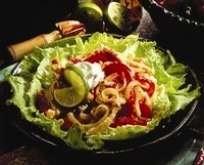 Turkey, Tequila and Onion Salad
Ingredients:
1/4 Cup vegetable oil
6 Cups narrowly wedged white or yellow onions
6 Cups seeded and slivered sweet red bell peppers
6 Cups COOKED TURKEY BREAST, shredded
1/4 Cup Tequila
1 Tablespoon lime peel, grated
2 Teaspoons ground cumin
1-1/2 Teaspoons crushed red pepper
1 Clove garlic, crushed
1/4 Cup freshly squeezed lime juice
As needed lettuce leaves
As needed sour cream
As needed lime slices for garnish
Directions:
Heat oil in skillet over medium heat. Add onions and peppers and sauté until tender.
Add turkey, tequila, lime peel, cumin, crushed red pepper and garlic; heat thoroughly.
Add lime juice and mix. Cover and hold for service in the refrigerator.
Arrange 1-1/2 cups salad on lettuce-lined individual salad plates. Serve each with a dollop of sour cream and lime slices.
Recipe Source
National Onion Association