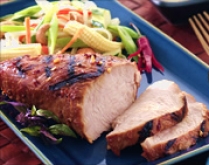 Ingredients:
*1 Teaspoon chili powder
*1 Teaspoon cumin
*1 Teaspoon salt
*1/4 Teaspoon cayenne pepper
*1 Pound TURKEY TENDERLOINS
*1/3 Cup onion, chopped
*1 jalapeno pepper, seeded and minced
*2 Teaspoons olive oil
*1 Can (15-ounces) black beans, rinsed and well drained
*1 Can (8 3/4-ounces) corn, drained
*1/3 Cup tomato, chopped
*2 Tablespoons fresh cilantro, chopped
*1 lime, quartered
Directions:
In small bowl, combine chili powder, cumin, salt and cayenne pepper; sprinkle one half of mixture over turkey.
In medium, non-stick skillet over medium-high heat, saute onion and jalapeno pepper in oil 2 to 3 minutes, or until onion softens. Add beans, corn, tomatoes, remaining chili powder mixture and cilantro. Cook 25 to 30 minutes or until mixture is heated throughout.
Meanwhile, preheat charcoal grill for direct-heat cooking. Grill 15 to 20 minutes or until meat is no longer pink in center and meat thermometer reaches 160 degrees F.
Allow tenderloins to stand 10 minutes before serving.
To serve, squeeze lime wedge over each serving.
Recipe Source
National Turkey Federation