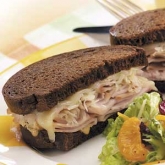 Turkey Reubens
Serves: 2
---
Product Types:
Ethnicities:
Season/Occasions:

Ingredients:
* 4 slices pumpernickel or rye bread
* 2 tablespoons Thousand Island salad dressing
* 6 ounces sliced deli smoked turkey
* 1/2 cup sauerkraut, rinsed and well drained
* 2 slices Swiss cheese
* 2 teaspoons butter, softened
Directions:
1. Spread two slices of bread with salad dressing. Layer with turkey, sauerkraut and cheese; top with remaining bread. Butter the outsides of sandwiches.

2. In a large skillet, toast sandwiches for 3-4 minutes on each side or until heated through.