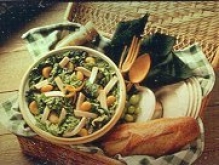 Turkey, Mandarin and Poppy Seed Salad
Ingredients:
1/4 Cup orange juice
1-1/2 Tablespoons red wine vinegar
1-1/2 Teaspoons poppy seeds
1-1/2 Teaspoons olive oil
1 Teaspoon Dijon-style mustard
5 Cups red leaf lettuce, washed, dried, chilled and torn
2 Cups baby spinach leaves, washed, dried, chilled and torn
1/2 Pound COOKED TURKEY BREAST, cut into 1/2-inch julienne
1 Can (10-1/2 ounces) mandarin oranges, drained
1 Teaspoon orange zest
Directions:
Dressing: In small bowl combine orange juice, vinegar, poppy seeds, oil, mustard and 1/8 teaspoon freshly ground black pepper. Set aside.
Salad: In large bowl toss together lettuce, spinach, turkey and oranges. Pour dressing over turkey mixture.
Garnish with orange zest and serve immediately.
Recipe Source
National Turkey Federation