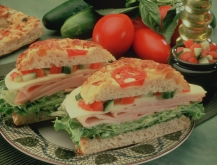 Turkey Foccacia
Serves: 24
---
Product Types:
Ethnicities:
Italian
Season/Occasions:
Ingredients:
2 Cups prepared pesto sauce
1/2 Teaspoon fresh lemon juice
2 Teaspoons freshly ground black pepper
24 4-Ounce TURKEY CUTLETS, thawed
2 Tablespoons Kosher salt
24 6-inch Pieces foccacia, split
2-1/2 Pounds arugula leaves, washed and dried
2 Pounds sweet red pepper, roasted
1.5 Pounds fresh Mozzarella cheese, sliced
For Pesto Mayonnaise:
2 Cups mayonnaise
1 Cup prepared pesto sauce
1/4 Cup parsley, chopped
2 Teaspoons freshly cracked black pepper
Directions:
1. In half steamtable pan, combine 2 cups pesto sauce, lemon juice and pepper.

2. Place turkey cutlets in marinade and toss well to coat. Cover and refrigerate at least 2 hours.

3. Preheat grill 10 minutes. Sprinkle turkey with salt and grill cutlets 3 minutes on the first side, flip and grill 1-1/2 to 2 minutes on the other side or until cooked through to an internal temperature of 170 degrees F. Keep warm.

4. For Pesto Mayonnaise: Mix mayonnaise, 1 cup pesto sauce, parsley and pepper. Cover and refrigerate at least 2 hours before using as a sandwich spread.

5. For Each Serving: On bottom piece of split foccacia, spread 2 tablespoons of Pesto Mayonnaise. Top with 1/3 cup arugula, 1 grilled turkey cutlet, 1/4 cup roasted red pepper slices, and 2 slices (1 oz.) Mozzarella.

6. Replace top of foccacia, heat several minutes and serve accompanied with a cold ratatouille salad and fresh orange sections.
Recipe Source
National Turkey Federation