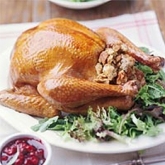 The Perfect Holiday Turkey
Ingredients:
•1-1/2 cups sliced celery (3 stalks)
•1 cup chopped onion (1 large)
•1/2 cup butter or margarine
•1 Tbsp. snipped fresh sage or 1 tsp. poultry seasoning or ground sage
•1/2 tsp. salt
•1/4 tsp. freshly ground pepper
•12 cups dry bread cubes
•3/4 to 1 cup chicken broth
•1 10- to 12-lb. turkey
•2 Tbsp. olive oil
•Small red cooking apples (optional)
•Fresh herb sprigs (optional)
Directions:
1) Preheat oven to 325 degrees F. For stuffing, in a large skillet cook celery and onion in hot butter over medium heat for 3 minutes or until tender. Remove from heat. Stir in sage and black pepper. Place dry bread cubes in a large bowl; add onion mixture. Drizzle with enough of the chicken broth to moisten, tossing lightly to combine.

2) Remove neck and giblets from the turkey. Rinse the inside of the turkey; pat dry with paper towels. Spoon some of the stuffing loosely into the neck cavity of the turkey. Pull the neck skin to the back; fasten with a skewer. Lightly spoon more stuffing into the body cavity. (Place any remaining stuffing in a casserole; cover and chill. If desired, for a moister stuffing, drizzle with additional broth. Bake stuffing in casserole alongside turkey about 45 minutes or until heated through.) Tie legs to tail with 100%-cotton kitchen string or tuck the ends of the drumsticks under the band of skin across the tail. Twist the wing tips under the back.

3) Place the turkey, breast side up, on a rack in a shallow roasting pan. Brush with oil; season with additional salt and pepper. Insert an oven-going meat thermometer into the center of one of the inside thigh muscles, making sure the bulb does not touch bone. Cover turkey loosely with foil. Roast turkey for 2-1/2 hours.

4 ) Cut the string or band of skin between the drumsticks so the thighs will cook evenly. Uncover; roast for 45 minutes to 1-1/4 hours more or until meat thermometer registers 180 degrees F and an instant-read thermometer inserted in stuffing registers at least 165 degrees F. Remove turkey from oven. Cover; let stand for 15 minutes before carving. If desired, serve on a platter garnished with small apples and herb sprigs. Makes 12 to 14 servings.
Recipe Source