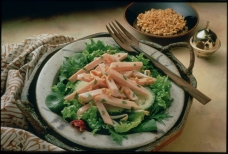 Ingredients:
1-1/4 Pounds Oriental bean thread noodles
20 4 Ounces each TURKEY STEAKS, thawed
3-3/4 Cups carrot, grated
3-3/4 Quarts cucumber, peeled, seeded and chopped in 1/4-inch pieces
1-1/4 Cups light soy sauce
2-1/2 Cups lime juice, freshly squeezed
3 Tablespoons sugar
1/2 Cup smooth peanut butter
2 Teaspoons hot red pepper flakes
2-1/2 Cups peanut oil
40 Leaves leaf lettuce, washed and dried
1-1/4 Cups peanuts, chopped
20 Each lime wedges
Directions:
Cook noodles briefly in boiling water. Drain and cool.
Grill turkey steaks on a 340 degree F grill for 3 to 3-1/2 minutes per side, to an internal temperature of 170 degrees F. Chill and cut into 1/8-inch strips.
Blend turkey, carrots and cucumbers together.
In a blender or food processor, blend soy sauce, lime juice, sugar, peanut butter and pepper flakes until pureed. With blender/processor running, add oil. Blend until well mixed. Transfer to mixing bowl and toss dressing with turkey mixture.
Arrange 2 lettuce leaves on each plate. Place 1 ounce of bean thread noodles on top and 1-1/2 to 2 cups of turkey mixture on top of the noodles. Garnish with 1 tablespoon of chopped peanuts and a lime wedge.