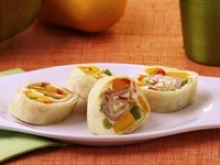 Sweet and Savory Mango Turkey Roll Ups
Ingredients:
*1/3 Cup whipped plain cream cheese
*2 (10-Inch) burrito size flour tortillas
*1 Medium ripe mango, peeled, pitted and cut into 1/2-inch thick strips
*2 green onions, green tops only, chopped fine
*1/2 Small red bell pepper, seeded and cut into thin julienne strips
*3 Ounces SMOKED TURKEY BREAST, very thinly sliced
Directions:
Spread cream cheese over tortillas to within 1/4-inch of the edges. Place mango, chopped green onion and bell pepper strips over 2/3 of the surface.
Top with turkey slices and roll up tightly. Gently squeeze rolls to secure ingredients. Cover and chill.
Cut into 1/2-inch thick slices. Serve chilled.
Recipe Source
National Mango Board