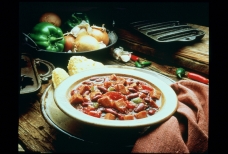 Ingredients:
3 Cups green bell pepper, seeded and cut into 1/4-inch cubes
1 Quart coarsely chopped onions
6 Cloves garlic, minced
1/2 Cup canola oil
1 #10 Can fancy dark kidney beans, rinsed and well drained
1 #10 Can crushed tomatoes
3 Cups dry red wine
9 Cups COOKED or PULLED TURKEY, cut into 1/2-inch cubes
3 Tablespoons chili powder
1/2 Cup fresh cilantro, coarsely chopped
1 Tablespoon crushed red pepper flakes
1-1/2 Teaspoons salt
As needed fresh cilantro, for garnish
Directions:
1. In a stockpot, over medium-high heat, sauté green pepper, onion and garlic in oil until vegetables are tender-crisp.

2. Add beans, tomatoes, wine, turkey, chili powder, cilantro, red pepper and salt. Increase heat and bring mixture to boil. Immediately reduce heat and simmer, uncovered, 40 minutes.

3. For service, ladle into bowls and garnish with additional fresh cilantro.
Recipe Source
National Turkey Federation