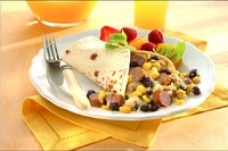 Ingredients:
*3/4 Pound TURKEY BREAKFAST SAUSAGE LINKS
*5 Large eggs
*2 Tablespoons cold water
*1/4 Teaspoon chili powder
*1 (7-Ounce) can sweet corn niblets, drained
*1/2 Cup canned black beans, drained and rinsed
*2 Tablespoons chopped green chilies
*4 8-inch flour tortillas, warmed
*1 Cup pepper jack cheese, shredded
*2 Tablespoons chopped fresh cilantro PLUS additional for garnish
*As needed fresh fruit
Directions:
In 10-inch nonstick skillet, cook sausage over medium heat for 12 to 15 minutes, turning occasionally, until lightly browned and internal temperature reaches 165 degrees F. Remove sausage from pan; drain. Cool sausages slightly and slice into 1/4-inch pieces.
In small bowl whisk together eggs, water and chili powder until well beaten. Add egg mixture to skillet; cook over low heat.
Once eggs begin to set, top with sliced sausage, corn, black beans and green chilies. Using spatula, lift edges of eggs as they cook, letting uncooked part run underneath until egg is set. Top with cheese and cilantro.
To serve, spoon egg mixture into warmed tortillas. Roll up tortilla to enclose filling. Garnish with additional cilantro.
Serve with fresh fruit.
Recipe Source
Jennie-O Turkey Store