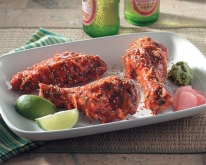 Ingredients:
Hot Sauce
6 Ounces seracha sauce, (OR substitute Tabasco sauce)
1 Ounce sesame oil
1 Cup fresh garlic, peeled and cut into slivers
1 Cup fresh ginger, peeled and cut into slivers
1 Cup fresh cilantro, chopped fine

Wings
10 Pounds TURKEY WINGS
2 Teaspoons smoke essence
To taste salt and pepper
As needed sesame seeds, toasted

Service
As needed pickled ginger
As needed wasabi
6 Large limes
Directions:
Hot Sauce
1. Mix together the seracha or Tabasco sauce, sesame oil, garlic, ginger and cilantro. Reserve.

Wings
1. Cut off wing tips. (Reserve for turkey stock or soups.) Cut remaining wings into 2 pieces at each joint.
2. In a stock pot, stir smoke essence, salt and pepper into water. Add turkey wings and bring to a boil, reduce heat and simmer for 15-20 minutes or until tender.
3. Drain and pat dry with a clean paper towel.
4. Heat oil to 350-375 degrees F. Deep fry wings until they reach a golden brown, about 6 to 8 minutes.
5. Place wings in bowl, add reserved hot sauce and toss gently until wings are completely coated. Sprinkle with sesame seeds.

Service
1. Serve with pickled ginger and wasabi.
2. Squeeze fresh lime juice over the platter and garnish with lime wedges or twists.
Recipe Source
National Turkey Federation