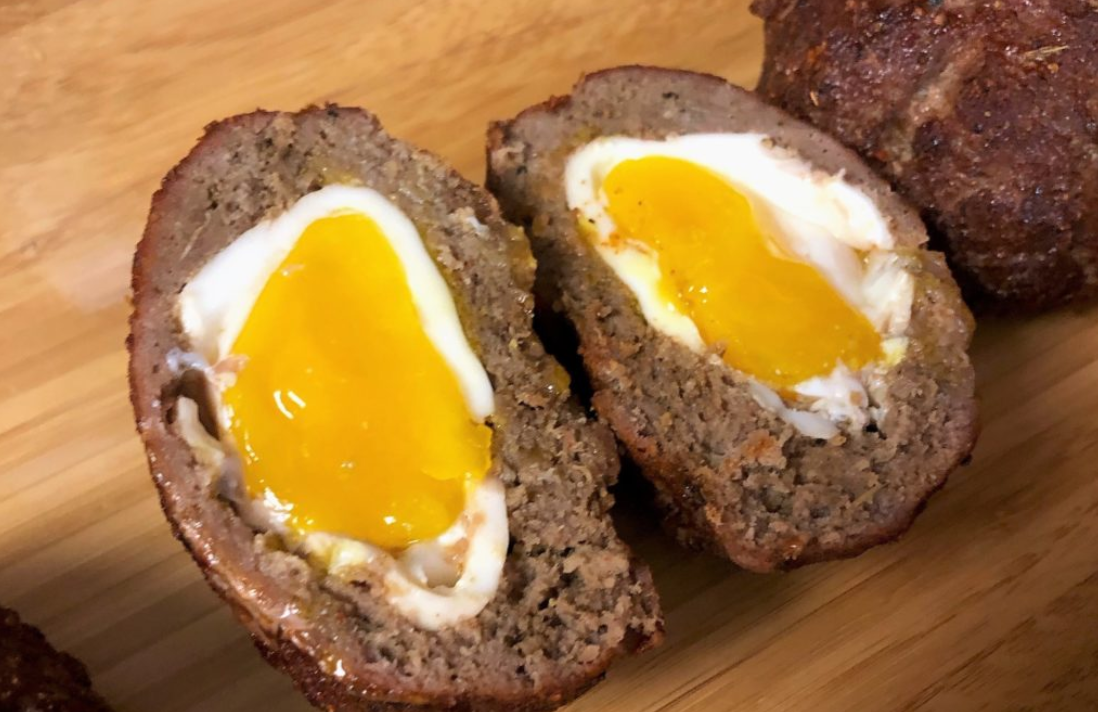 Smoked Turkey Scotch Eggs
Scotch Eggs are a great smoker treat and using ground turkey adds a tasty new twist to this classic. These go pretty quick, so you might want to double or triple up this recipe. If you don't have poultry seasoning a combination of sage and thyme will work, and you can cook the eggs up to a day ahead, just keep them cold until you need them.
Prep Time: 30 min
Cook Time: 30
Serves: 4
---
Ingredients:
4 large eggs
1 pound lean ground turkey
1 tsp Kosher salt
1 tsp paprika
1 tsp poultry seasoning
1/2 tsp granulated onion
1/4 tsp black pepper
1/4 tsp cayenne
Barbecue rub
Barbecue sauce (optional)
Directions:
Start by soft boiling the eggs. To do this bring a medium pot of water to a boil. Drop the eggs in, return to a boil, then adjust to a simmer and cook for three minutes. You start timing when the water returns to a boil. Meanwhile prepare a bowl of ice water. When the eggs are done, transfer them with a slotted spoon to the ice water and let cool for 10 minutes. Add more ice if necessary. Peel the eggs and refrigerate until you need them. (The eggs may be very soft at this point so handle them gently. They will cook some more in the smoker.)
Prepare the smoker to cook at 300 F with apple wood added for flavor. Crumble the turkey into a large bowl. In a small bowl combine the salt, paprika, pepper, cayenne, poultry seasoning and the granulated onion. Mix well, then sprinkle over the turkey. With your hands, combine the spice mixture and turkey well until fully blended.
Divide the turkey mixture into four equal portions. Flatten out a portion, then top with an egg. Wrap the turkey mixture around the egg completely covering it with no holes. Repeat for the remaining eggs. Season the wrapped eggs with the barbecue rub, then place them in the smoker.
Cook for 30-40 minutes until the turkey is golden brown, firm and cooked to an internal temperature of at least 165 F. Remove to a plate and let rest for five minutes. Slice in half to serve, with barbecue sauce for dipping if desired.