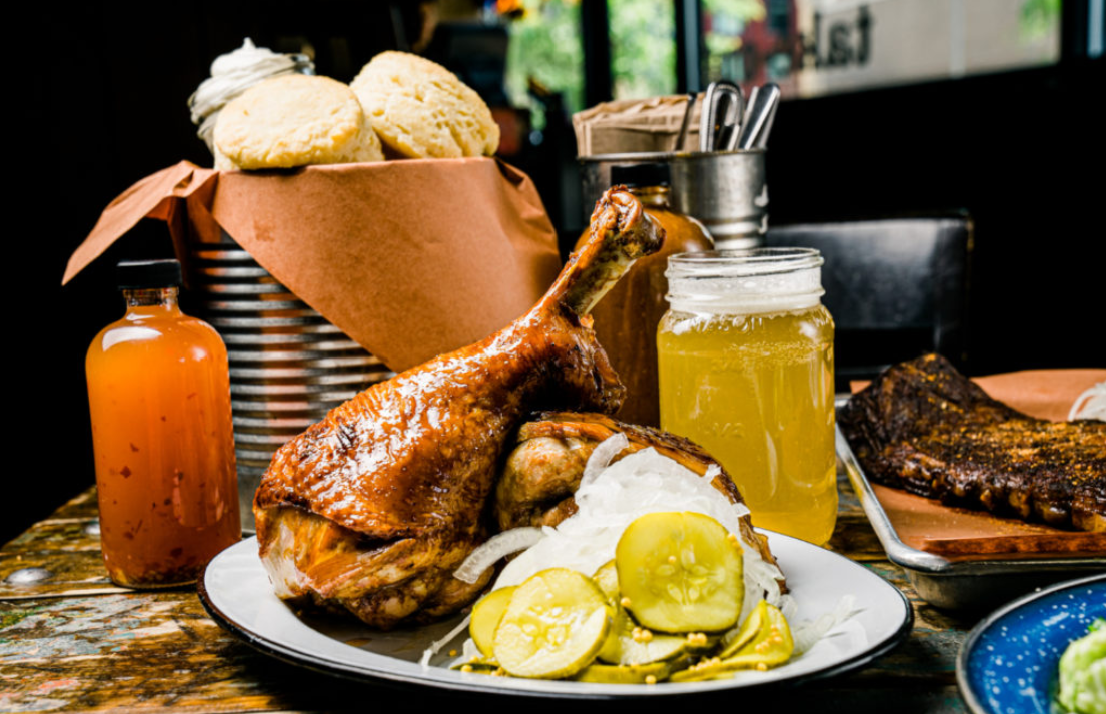 Smoked Turkey Legs
"Texas-style meats smoked with New England wood is sort of Sweet Cheeks Q's thing, so would you expect anything less than two huge Oak Smoked Turkey Legs at this Fenway hangout? Chef Dan Raia plates his with pickles and onions, but you can add on a few other goodies beyond BBQ, too, like a bucket o' biscuits (which the kitchen crew hits out of the park with the addition of honey butter) and a tall glass of sweet tea."
Ingredients:
4 turkey legs
Brine
5 qt Water
1 Tbsp Yellow Mustard Seeds
2 Tbsp Fennel Seed
2 Tbsp Corriander Seed
5 Star Anise
1 Tbsp Black Peppercorns
1 c Sugar
3 c Kosher Salt
1 Large Onion, peeled and sliced
2 Stalks Celery, rough chopped
5 Garlic cloves, smashed
1 qt Ice
Spice Rub
1 c Kosher Salt
2 Tbsp White Sugar
1/4 c Light Brown Sugar
2 Tbsp Smoked Pimento
1 Tbsp Ancho Chile Powder
1 Tbsp Granulated Garlic
2 Tbsp Granulated Onion
1 Tbsp Colemans Mustard Powder
1 Tbsp Ground Black Pepper
Directions:
Brine
In a large pot, toast the spices on medium heat for 1-2 minutes or until fragrant.
Add the 5 qts of water, the salt and the sugar and bring to a boil. Stir until the salt and sugar are dissolved.
Turn off the heat and add the ice.
Spice Rub
Mix all ingredients in a bowl. Make sure to break up any lumps.
Turkey Legs
Make a few small incisions in your turkey legs to let the brine penetrate deep into the meat. Use a thin paring knife and go as deep as you can without creating a large tear in the skin.
Submerge the Turkey legs in the chilled brine in the refrigerator for at least 24, but no more than 48 hours.
Take the turkey legs out of the brine and dry with a paper towel. Allow to air dry in the refrigerator on a sheetpan with a wire rack for at least another 2-3 hours.
Remove from the refrigerator and sprinkle with the spice rub.
Using a smoker at 225 degrees, smoke the Turkey legs for about 5 hours, or until the internal temperature is around 155 degrees. At this point, turn the temperature to 275 degrees in the smoker and continue to smoke the turkey until the internal temperature is 170-175 degrees.