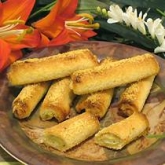 Smoked Turkey Bites
Serves: 24
---
Product Types:
Ethnicities:
Season/Occasions:

Ingredients:
* 1/2 cup (1 stick) butter, melted and at room temperature
* 1/4 pound shaved smoked turkey deli meat
* 8 ounces cream cheese, at room temperature
* 1/4 cup minced sweet onion
* 1/4 cup mayonnaise
* 1 heaping Tablespoon small capers, coarsely chopped
* 1 teaspoon Worcestershire sauce
* 1 teaspoon red pepper jelly
* 1 teaspoon yellow mustard
* 1 loaf of traditional commercial sliced soft white bread
* 1/4 cup (about) grated Parmesan cheese
Directions:
1. Preheat oven to 350 F. Line a shallow baking sheet with nonstick foil. Place melted butter in a shallow dish for dipping.

2. Coarsely chop the shaved smoked turkey and place in a medium bowl. Add cream cheese, sweet onion, mayonnaise, capers, Worcestershire sauce, red pepper jelly, and mustard. Using a large fork, stir and mash until thoroughly combined.

3. Trim crusts from the bread. Place 6 slices at a time between 2 sheets of plastic wrap. Roll flat to 1/8th-inch thickness with a rolling pin or a tall water glass.

4. Spread each slice with the smoked turkey mixture. Roll into a cigar-shape. Dip each into the melted butter, and place seam-side down on prepared pan. Sprinkle with grated Parmesan cheese.

Bake 15 to 20 minutes until golden. Serve as whole rolls or cut in half for bite-sized pieces for appetizer.