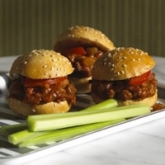 Ingredients:
* As needed olive oil-flavored cooking spray
* 3 Medium onions, small dice
* 24 Cloves garlic, minced
* 9 Medium bay leaves
* 3 Tablespoons ground cumin
* 1 Tablespoon chili powder
* 1-1/2 Teaspoons ground allspice
* 4 Pounds LEAN GROUND TURKEY
* 18 Ounces tomato paste
* As needed cold water
* 1-1/2 Cups California golden raisins
* To Taste kosher salt and freshly ground black pepper
Service
24 Small sesame seed dinner rolls, cut in half crosswise and heated
24 Red ripe tomato slices, cut to fit small rolls
Directions:
1. Spray large skillet generously with cooking spray and heat over medium-high heat. Add onion and sauté until slightly soft.
2. Add garlic and cook only until fragrant.
3. Add bay leaves, cumin, chili powder and allspice; stir together for 2 to 4 minutes.
4. Add ground turkey and cook, stirring to break up turkey, until all pink color disappears and turkey is cooked through. Stir in tomato paste and cook until warmed throughout.
5. Add water and raisins and cook, covered, over medium heat until thickened.
6. Uncover and cook, stirring, until desired consistency. Remove bay leaves. Adjust seasoning with salt and pepper. Hold, warm, for service.
Per order, portion turkey mixture among bottom halves of rolls. Top each with a tomato slice and replace tops of rolls. Serve.