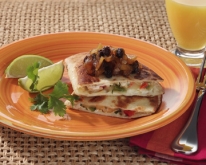 Pavo Quesadilla w/ Fruit Chutney
Serves: 12
---
Product Types:
Ethnicities:
Season/Occasions:

Ingredients:
Quesadillas
1 Ounce canola oil
1/3 Cup red bell pepper, seeded and small dice
1/3 Cup green bell pepper, seeded and small dice
2 Tablespoons cilantro, chopped
2 Tablespoons red onion, small dice
1 Teaspoon jalapeno pepper, seeded and finely minced
6 Ounces COOKED TURKEY, small dice
6 6-inch flour tortillas
6 Ounces cream cheese, softened
6 Slices Jalapeno Jack cheese

Pico Mucho Fruit Chutney
1/2 Cup mango, peeled and small dice
1/2 Cup pineapple, peeled and small dice
2 Ounces dark raisins
2 Teaspoons fresh gingerroot, peeled and minced
1 Teaspoon garlic, minced
4 Ounces brown sugar
1/2 Medium jalapeno pepper, seeded and minced
2 Ounces onion, small dice
4 Ounces cider vinegar
1 Teaspoon salt

Service
As needed butter
2 Each limes, cut into wedges
As needed cilantro leaves
Directions:
Quesadillas
1. Heat oil in a large skillet. Add bell peppers, cilantro, onion and jalapeno. Sweat for a few minutes. Remove from pan and cool.
2. Add turkey to the pepper/onion mixture.
3. Spread tortillas with cream cheese. Place one slice Jack cheese onto each tortilla.
4. Evenly distribute the turkey/onion mixture among the tortillas.
5. Fold the tortillas in half, pressing down gently to adhere ingredients.

Pico Mucho Fruit Chutney
1. In a saucepan, combine all ingredients and bring to a boil over medium heat.
2. Stirring occasionally, uncovered, simmer about 45 minutes until mixture becomes thick.
3. Cool chutney prior to service.

Service
1. Per order: In a non-stick skillet, melt 1 tablespoon butter. Place quesadilla in pan and cook on each side until golden.
2. Cut each quesadilla in half forming wedges. Garnish with Fruit Chutney, lime wedges and cilantro.
Recipe Source
National Turkey Federation