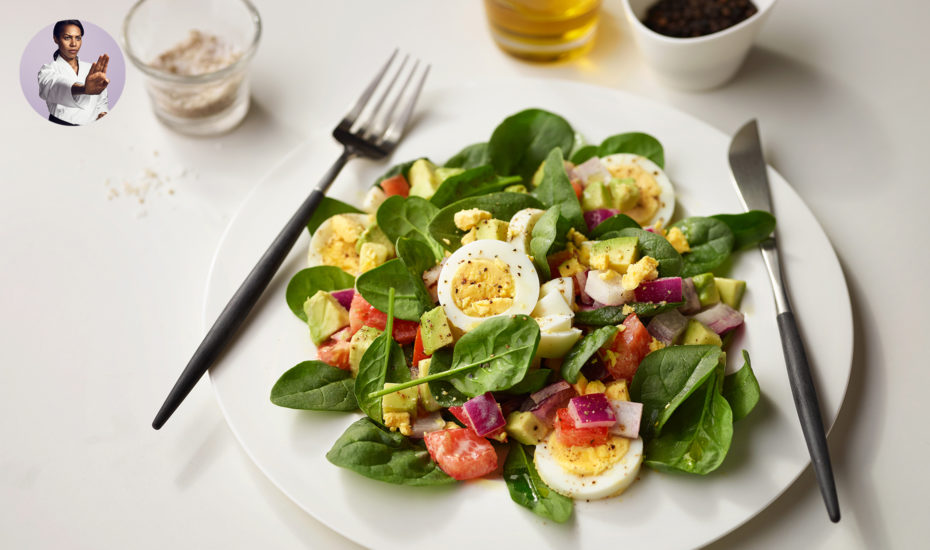 Ingredients:
6 hard-boiled EGGS, sliced
2 avocados, chopped
1 cup tomato chopped
½ cup red onion chopped
¼ cup fresh parsley or cilantro chopped
6 cups spinach leaves
Dressing
2 Tbsp. mayonnaise
2 Tbsp. sour cream
1 Tbsp. fresh lemon juice
Pinch salt
1/3 tsp. hot pepper sauce
Yields: 6 servings
Directions:
MIX dressing ingredients in small bowl.
RESERVE and REFRIGERATE 6 center slices from eggs for garnish. CHOP remaining eggs.
COMBINE chopped eggs, avocados, tomato, onion and parsley in large bowl; TOSS gently to mix. ADD dressing and STIR gently just until ingredients are evenly coated with dressing.
REFRIGERATE at least 1 hour to blend flavors. SERVE on spinach leaves, TOPPED with reserved egg slices.
To hard-boil eggs:
PLACE eggs in saucepan large enough to hold them in single layer. ADD cold water to cover eggs by 1 inch. HEAT over high heat just to boiling.
REMOVE from burner. COVER pan. LET EGGS STAND in hot water about 15 minutes for large eggs (12 minutes for medium eggs; 18 minutes for extra-large eggs).
DRAIN immediately cool completely under cold running water or in bowl of ice water, then REFRIGERATE.
Hard-boiled eggs are easiest to peel right after cooling. Cooling causes the egg to contract slightly in the shell.
NUTRITION INFORMATION
Per serving: 1/6 of recipe
Calories: 220
Total fat: 17 g
Saturated fat: 4 g
Polyunsaturated fat: 3 g
Monounsaturated fat: 8 g
Cholesterol: 191 mg
Sodium: 152 mg
Carbohydrates: 10 g
Dietary fiber: 5 g
Sugar: 2 g
Protein: 9 g
Vitamin A: 291 mcg
Vitamin D: 44 mcg
Folate: 181 mcg
Calcium: 99 mg
Iron: 3 mg
Potassium: 415 mg
Recipe Source