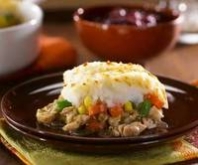 Ingredients:
*1 Tablespoon canola or vegetable oil
*1/4 Cup finely chopped celery
*1/2 Cup finely chopped onion
*1/8 Teaspoon freshly ground black pepper
*1/4 Teaspoon poultry seasoning
*3 Cups mashed potatoes
*1/4 Cup reduced-fat sour cream
*2-1/2 Cups CHOPPED COOKED TURKEY
*1-1/3 Cups turkey gravy (homemade or store-bought)
*2 Cups cooked vegetables (or mixture of frozen corn, peas, carrots, green beans, etc., thawed)
*1 tablespoon butter, melted
*2/3 Cup cranberry sauce (homemade or store-bought)
Directions:
Preheat the oven to 375°F. Spray a deep-dish pie pan (or a 9x9-inch baking dish) with nonstick cooking spray. Line a baking sheet with foil and set aside.
Over medium heat, in a large skillet, heat the oil. Add celery, onion, pepper and poultry seasoning. Cook and stir until the onions begin to soften, 2-4 minutes.
While the onions are cooking, mix the potatoes and sour cream in a mixing bowl. Stir well to combine and set aside.
Add the turkey and gravy to the onion mixture in the skillet and stir. When the mixture is heated through, transfer it to the baking dish.
Top the turkey mixture with the cooked vegetables.
Drop the mashed potatoes by large spoonfuls atop the vegetables. Using a rubber spatula rinsed with cold water, flatten the potatoes to cover the turkey and vegetables, smoothing to the edge of the baking dish. Brush the top of the potatoes with melted butter.
Place the pie onto the foil-covered baking sheet and bake 35 to 40 minutes or until heated through to an internal temperature of 165°F.
Cover the pie with foil and let it rest for 5 to 8 minutes before serving.
Serve with cranberry sauce on the side.
Recipe Source
Idaho Potato Commission