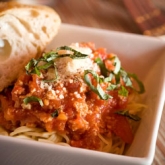 Ingredients:
5 Tablespoons olive oil
2 Pounds coarse GROUND TURKEY (preferred dark meat mixture)
1 Medium onion, small dice
2 Medium carrots, peeled and small dice
1 Medium celery stalk, small dice
5 Cloves fresh garlic, minced
2 Tablespoons tomato paste
1-1/2 Cups dry white wine
2-1/2 Pounds fresh roma tomatoes(if not in season, sub high quality canned tomato)
3 Cups TURKEY STOCK
1 Ounce chopped fresh oregano
1 Ounce fresh thyme
2 Ounces chopped fresh basil
1 small pinch red pepper flakes
As needed cooked linguine
As needed grated fresh Parmesan
As needed fresh basil, chiffonade
Directions:
1. Sauté ground turkey in hot olive oil, season with salt and pepper and cook through. Remove from pan.

2. In the same pan, sauté onion, carrots and celery for 6 to 8 minutes. Add garlic and sauté until fragrant. Stir in tomato paste and deglaze with wine. Cook until wine is evaporated.

3. Add tomatoes and stock and cook for 30 minutes.

4. Stir in chopped herbs and crushed red pepper flakes. Adjust seasonings as necessary.

5. Serve over linguine. Sprinkle with Parmesan and garnish with additional basil.
Recipe Source
Executive Chef/Owner Rocco Whalen; Fahrenheit in Cleveland, OH