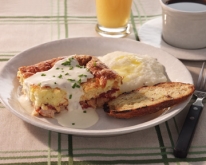 Ingredients:
Frittata
12 Large eggs
3 Cups heavy cream
1 Teaspoon salt
1/2 Teaspoon freshly ground black pepper
1 Tablespoon butter
6 Ounces yellow onion, diced
15 Ounces diced tomatoes, drained
1 Pound ROASTED TURKEY, diced
4 Ounces TURKEY BACON, cooked crisp, drained and chopped
1/2 Pound Cheddar cheese, shredded
1/2 Pound Monterey Jack, shredded

Three Cheese Mornay Sauce
3-1/2 Cups half and half
1/2 Cup sweet onion, finely diced
2 Tablespoons butter
2 Tablespoons flour
2 Teaspoons Worcestershire sauce
1/2 Teaspoon Tabasco sauce
1/2 Teaspoon salt
1/3 Cup Parmesan cheese, grated
1/3 Cup Monterey Jack cheese, shredded
1/3 Cup Swiss cheese, shredded

Service
As needed Cooked cheese grits
As needed Hearty whole grain toast
Directions:
Frittata
1. Whisk together eggs, cream, salt and pepper; set aside.
2. In a sauté pan, heat the 1 tablespoon butter over medium heat. Add onion and tomatoes, stirring well until the onion is soft. Set aside.
3. Spray a ½-sized hotel pan with non-stick cooking oil. Layer the following: turkey, turkey bacon, onion-tomato mixture and cheeses.
4. Slowly add the egg-cream mixture, pouring evenly over the entire pan, pressing lightly and saturating thoroughly.
5. Bake in a preheated 350 degree F oven until puffed and set, about 45-55 minutes. If needed, cover with aluminum foil if the top appears too brown.

Three Cheese Mornay Sauce
1. Heat 3½ cups half and half to 160 degrees F; set aside.
2. Saute ½ cup onion in 2 tablespoons butter until translucent. Add flour, whisking to combine. Lower heat and cook about 1 minute.
3. Pour in heated cream, whisking constantly. Reduce heat and bring to a simmer. Whisk until mixture begins to thicken.
4. Add Worcestershire and Tabasco sauces, salt and 1/3 cup each of Parmesan, Monterey Jack and Swiss cheeses

Service
1. Cut into 8 portions; plate and cover with Three Cheese Mornay Sauce.
2. Offer with a side of cheese grits and hearty whole grain toast.
Recipe Source
National Turkey Federation