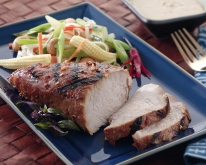 Honey Grilled Turkey Tenders with Peanut Sauce
Ingredients:
Peanut Sauce
1-1/2 Cups TURKEY BROTH
1 Cup smooth peanut butter
2 Teaspoons sesame oil
2 Teaspoons soy sauce
2 Teaspoons freshly squeezed lemon juice
1/4 Teaspoon ground ginger
1/4 Teaspoon freshly ground black pepper
2 green onions, finely chopped
2 Cloves garlic, minced


Turkey Marinade
1/2 Cup soy sauce
1/4 Cup rice vinegar
2 Tablespoons honey
2 Teaspoons ground coriander
1/2 Teaspoon freshly ground black pepper
1/2 Teaspoon crushed red pepper flakes
2 Cloves garlic, minced
2 Pounds TURKEY TENDERS, boneless, skinless & cut into 8-ounce portions
Directions:
Peanut Sauce
1. Combine broth and peanut butter; whisk to blend.
2. Stir in remaining ingredients and mix well. Cover and let mixture stand for, at least, 1 hour for flavors to blend. (May be stored in refrigerator for up to 2 days).
3. Serve peanut sauce with turkey tenders.


Turkey Marinade
1. Combine all marinade ingredients in a bowl or in a sealable plastic bag.
2. Add turkey tenders and marinate, refrigerated for several hours.


Grilling
1. Remove tenders from marinade and discard marinade. Allow tenders to slightly drain.
2. Grill turkey tenders, by the indirect grilling method, until cooked through to an internal temperature of 170 degrees F, turning the tenders so all sides receive grill marks.
Recipe Source
National Turkey Federation