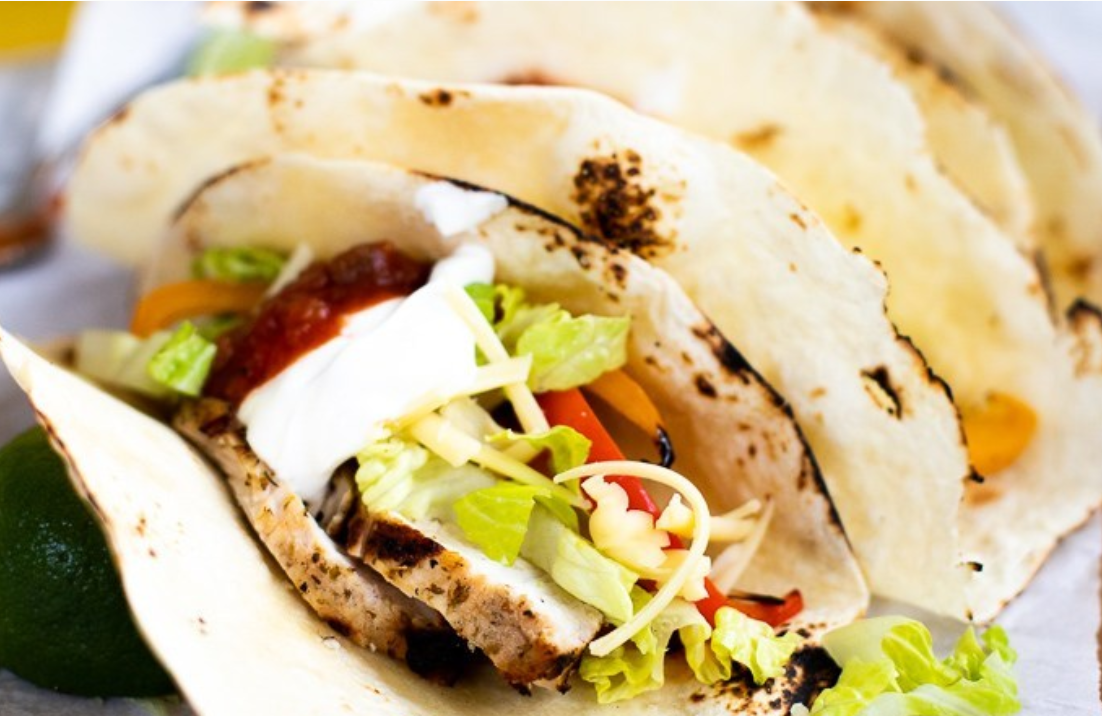 Grilled Turkey Tenderloin Fajitas
Fajita craving? You've got to try this grilled turkey tenderloin recipe! Fajitas were one of my favorite meals growing up, and while my mom usually made them with chicken, this version of turkey fajitas is perfection! The turkey tenderloin fajitas are juicy and tender and packed with flavor. – Emily Dingmann, My Everyday Table
Prep Time: 30 min
Cook Time: 30 min
Serves: 6
---
Ingredients:
3 bell peppers (green, red and orange), thinly sliced
1/2 red onion, thinly sliced
2 cloves garlic, minced
1/4 c lime juice (about 1–2 limes)
1/4 c olive oil
2 tsp dried oregano
1 1/2 tsp salt
1 1/2 lb turkey tenderloin
2 15-oz cans refried beans
16 oz bag of frozen fire roasted corn
12 flour tortillas
8 oz sour cream
1 1/2 c shredded cheddar cheese
3 c shredded lettuce
1 c salsa
hot sauce (optional)
Directions:
In a large bowl, mix together garlic, lime juice, olive oil, oregano, and salt. Add turkey to bowl and turn over to coat both sides of turkey with marinade. Marinate for 30 minutes, or up to 12 hours.
Take turkey tenderloin out of the fridge and preheat grill to medium-high heat. About 400 degrees F.
Slice peppers and onions, place into a grill basket and drizzle very lightly with olive oil and a pinch of salt.
Grill turkey for 7-8 minutes, flip over and grill for another 7-10 minutes, or until the turkey reaches an internal temperature of 165 degrees F.
Grill veggies at the same time as turkey, for about 12-13 minutes, or until charred. Stir after you flip the turkey.
Let turkey rest for 10 minutes, then slice thinly against the grain.
Meanwhile, prep turkey fajita toppings and sides. Heat refried beans in a small sauce pan until hot. Heat corn in a bowl in the microwave until hot. Slice lettuce and shred cheddar cheese.
Microwave tortillas until hot, or heat over gas stove until lightly charred.
Serve sliced turkey in tortillas with toppings as desired and beans and corn on the side.