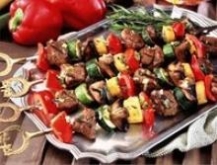 Grilled Turkey, Portabella Mushrooms and Vegetable Kebabs
Ingredients:
TURKEY THIGHS, skinned, boned & cut into 1-inch cubes:
1-1/2 to 2 pounds portabella mushrooms, stemmed & quartered:
2 whole green onions, chopped:1/2 cup olive oil:1/3 cup
balsamic vinegar:1/4 cup
Worcestershire sauce:1 tablespoon
garlic, minced:2 teaspoons
dried rosemary:1 teaspoon
dried tarragon:1 teaspoon
red bell pepper, seeded & cut into 1-inch cubes:1/2 medium
yellow squash, cut into 1/2-inch rounds:
1 small
zucchini, cut into 1/2-inch rounds:
1 small
Directions:
Place turkey cubes and mushroom quarters in a large, self-closing, food-safe plastic bag.

In small bowl, combine green onions, oil, vinegar, Worcestershire sauce, garlic, rosemary and tarragon. Pour over turkey and mushrooms. Seal bag and refrigerate 2 hours or overnight.

Spray grill rack with nonstick vegetable oil spray. Prepare grill for direct heat cooking.

Drain turkey and mushrooms from marinade and discard marinade.

On 10 or 12-inch skewers, alternating ingredients, arrange drained turkey cubes, mushrooms, bell pepper, yellow squash and zucchini.

Grill over medium flame or coals 10 to 12 minutes or until turkey is no longer pink in center, turning once. Cook thighs to an internal temperature of 170 degrees F.
Recipe Source
National Turkey Federation