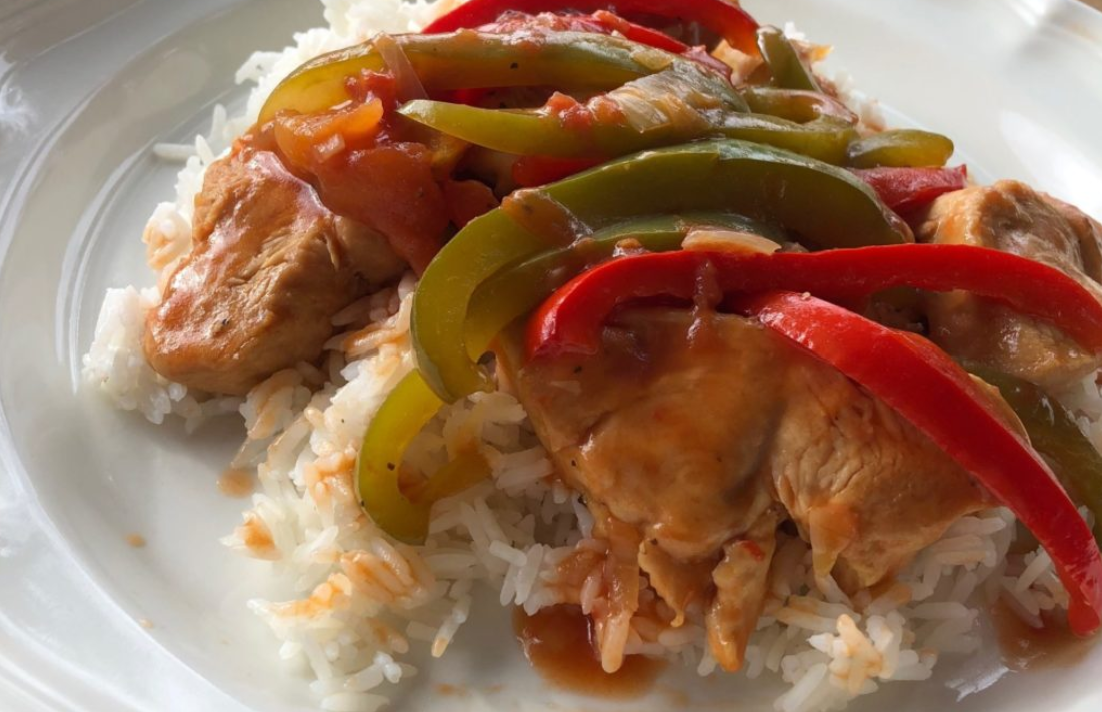 Grilled Turkey Pepper Steak
Dr. BBQ has done it again! Cooked to golden perfection and coupled with bold flavors of bell pepper, this Grilled Turkey Pepper Steak will have your mouth (and eyes) watering by the time it hits the plate!
Prep Time: 30 min
Cook Time: 30 min
Serves: 6
---
Ingredients:
1 ½ lbs turkey breast steaks, about 1" thick*
¼ c vegetable oil, plus a little to brush the steaks
1 medium yellow onion, cut into medium dice
2 garlic cloves, crushed
28 oz can whole tomatoes, crushed by hand
¼ c soy sauce
½ tsp black pepper
3/4 c vegetable broth
1/4 c flour
1 large green bell pepper, seeded, halved and cut into thin strips
1 large red bell pepper, seeded, halved and cut into thin strips
Cooked white rice
*You can also use turkey cutlets, chops or tenderloins available in the grocery store. Larger tenderloins will need to be butterflied.
Directions:
Brush the turkey steaks lightly with vegetable oil, then season with salt and pepper.
Prepare the grill to cook direct over medium heat. Place a grill friendly Dutch oven on the grill to preheat.
Add oil. When it's hot add the onion and garlic. Cook, stirring often until the onion is soft, about 5 minutes
Add the tomatoes, soy sauce and black pepper. Mix, then bring to a simmer. Cook for about 5 minutes stirring often.
In a medium bowl whisk together the vegetable broth and flour. Add it to the tomato mixture. Mix well.
Return to a simmer, then cook another 5 minutes until thickened.
Remove from the grill, cover and set aside.
Place the steaks on the grill. Cook, flipping occasionally until they are golden brown and cooked to an internal temperature of 165 F.
Transfer the steaks into the Dutch oven and add the bell peppers.
Toss to mix, then move the Dutch oven back to the grill. Return to a simmer.
Cook, stirring occasionally, adjusting the heat to keep a simmer, until the peppers are cooked to your desired doneness, about 10 to 12 minutes.
Add a little more vegetable stock if desired to thin the gravy.
Serve over cooked white rice.