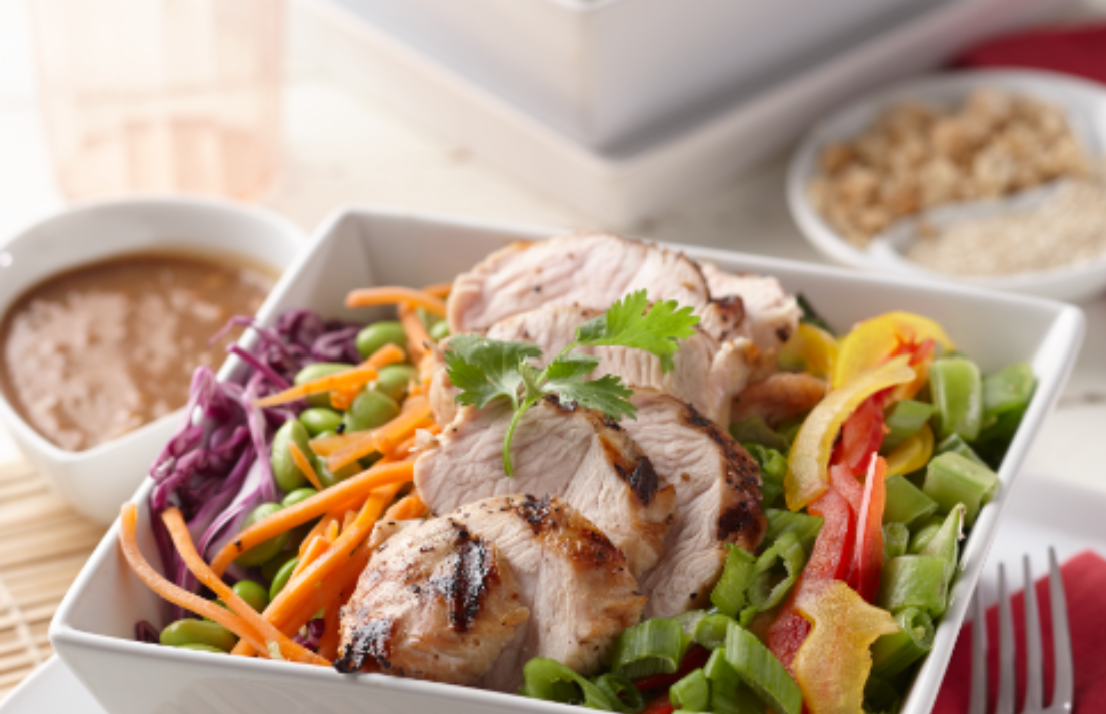 Grilled Turkey Chopped Thai Salad
Break out your inner grillmaster with this Asian fusion recipe created by Cristen Clark, the author behind Food & Swine. As a sixth-generation farmer, Cristen understands the benefits of using fresh, everyday ingredients and this dish is no exception! Check out her recipe featured here as part of the Iowa Food & Family Project.  
Prep Time: 20
Cook Time: 10

---
Ingredients:
1 pound turkey tenderloins
1 tsp seasoned salt
1/2 tsp black pepper
For the salad:
8-10 c Napa shredded cabbage or chopped romaine hearts, or combination (1-1.5 pounds)
6 green onions, one bunch, chopped
2 c shredded matchstick carrots
2 c thinly sliced bell pepper, or any sweet pepper, red and yellow preferred
2 c red cabbage, thinly sliced
2 c chopped snow pea pods or snap peas
2 c shelled edamame
For the dressing:
1 large clove of garlic, very finely minced and mashed
1/2 c creamy peanut butter
1/4 c honey
3 tbsp soy sauce
Juice of one small lime
3 tbsp of rice vinegar
1 tsp sesame oil
1/2 tsp sriracha or a pinch of cayenne pepper
1 tbsp water (add if a thinner consistency is desired)
Garnish:
Salted peanuts, lightly chopped
Cilantro leaves
Sesame seeds
Wonton strips
Directions:
Preheat grill to medium high heat. Next, sprinkle seasoned salt and pepper onto turkey tenderloins.
Grill until turkey registers 165 F in center, on a digital instant read thermometer, approximately 4 to 5 minutes per side.
Rest and slice prior to serving.
For the salad, combine cabbage and lettuce in a large serving bowl.
Add onions, carrots, bell pepper, red cabbage, chopped snow peas and edamame in clustered rainbow style rows on top of greens.
Leave an open space down the center to lay turkey slices.
To serve: Fan strips of grilled turkey tenderloin on top of salad, dress lightly and place a bowl of extra dressing on table for guests.
Salad can be tossed together to combine, if desired.
Dressing recipe is purposely generous.