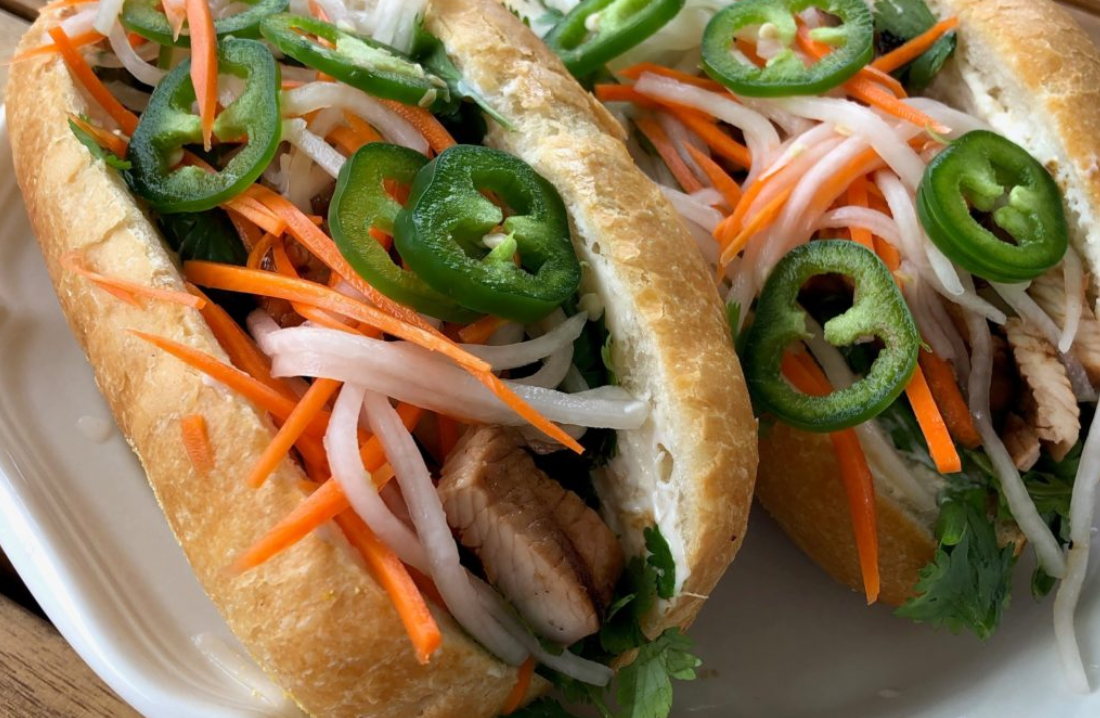 Grilled Turkey Banh Mi Sandwiches
Fresh, bright flavors with a little zip will make Dr. BBQ's Grilled Turkey Banh Mi Sandwiches a go-to on your grill. A simple marinade dresses up grilled turkey breast, making it a lean, flavorful base for your Banh Mi. Don't forget to top it off with homemade pickled vegetables and a few jalapenos!
Prep Time: 3 hr marinade + 1 hr prep
Cook Time: 20 min
Serves: 6
---
Ingredients:
1 pound turkey breast or tenderloin, sliced (some stores offer pre-sliced, raw turkey breast or thin cutlets)
Marinade
¼ c Hoisin sauce
2 tbsp peanut oil
2 tbsp Maggi seasoning
1 tbsp rice vinegar
1 tsp sesame oil
1 tsp sriracha
¼ tsp black pepper
3 cloves garlic, crushed
Pickled Vegetables
1 c julienned carrots, cut thin with a mandolin if possible
1 c julienned daikon, cut thin with a mandolin if possible
½ jalapeno, thinly sliced, cut thin with a mandolin if possible
2 tbsp sugar
2 tsp kosher salt
1/3 c rice wine vinegar
1/3 c water
6 small hoagie rolls
Mayonnaise
2 c loosely packed cilantro leaves
2 thinly sliced jalapenos
Sriracha, if desired
Directions:
At least a couple hours and up to a day before you plan to eat, prepare the pickled vegetables by placing the carrots, daikon and jalapeno in a glass bowl. Sprinkle the sugar and salt over the top. Toss to coat evenly. Add the water and vinegar and mix well. Let rest for up to 3 hours at room temperature, then refrigerate.
About an hour before cooking, prepare the marinade by adding all of the ingredients to a glass bowl. Mix well.
Slice approximately one pound of the turkey breast or turkey tenderloin into half-inch thick slices.* Add the turkey slices to the marinade and toss to coat.
Prepare the grill to cook direct over medium high heat. Remove the turkey slices from the bowl, and lay them flat on the cooking grid. Cook for about 2 to 3 minutes a side until browned and cooked to an internal temperature of 165 degrees F. Remove to a plate.
Spread a thin layer of mayonnaise on the inside of the rolls. Divide the cilantro evenly among the rolls pushing it into the bottom. Top with the meat evenly divided among the rolls, then top each with a healthy portion of the pickled vegetables, leaving most of the liquid behind. Finally, top the sandwiches with a few slices of jalapeno and an extra squirt of sriracha, if desired.
*Grill any extra turkey breast or tenderloin to use on a salad, stir fry, pasta or other dish!