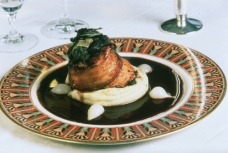 Grilled Marinated Turkey Filet
Ingredients:
HONEY-GINGER MARINADE
9 Ounces candied ginger
3 Ounces dry white wine
12 Ounces fresh honey

TURKEY PREP
2 6 Pounds Each BONE-IN TURKEY BREASTS
1/2 Pound TURKEY BACON

NATURAL TURKEY GLAZE
1/4 Cup olive oil
3 Cloves garlic, minced
1 Medium onion, small dice
1 Medium carrot, small dice
1 Stalk celery, small dice
turkey bones, roasted, (from 2 bone-in turkey carcass)
1 Tablespoon sea salt
1 Tablespoon fresh ground black pepper
1 Tablespoon fresh parsley, chopped
1 bay leaf
6 Sprigs fresh thyme
2 Cups dry red wine
6 Cups TURKEY STOCK

SERVICE
As needed Roasted garlic potatoes
As needed Braised kale
Directions:
HONEY-GINGER MARINADE
1. Combine ginger, white wine and honey in a blender jar. Purée until smooth.

TURKEY PREP
1. Separate the turkey breast by cutting through the center of the rib cage.
2. Gently pull and separate the breast from the turkey bones.
3. Remove skin from the turkey.
4. Square the ends of the breasts.
5. Cut breasts across the grain forming 3-4 filets (about 8 ounces each) off each breast.
6. Wrap each filet with bacon and secure with toothpicks.
7. Cover with 2/3 cups Honey-Ginger Marinade and refrigerate for about 12 hours.

NATURAL TURKEY GLAZE
1. Heat oil and sauté garlic, onion, carrots and celery until vegetables begin to caramelize.
2. Add turkey bones. Season with salt, pepper and herbs.
3. Add red wine and deglaze pan. Lower heat to a simmer and reduce liquid by 1/2.
4. Add turkey stock to pan, bring to a boil. Lower heat to a simmer. Continue to cook until reduced by 1/2.
5. Strain.
6. Continue to reduce until thick enough to coat a spoon.

GRILLING TURKEY
1. Per order, place filets on grill and season as required.
2. Grill on each side to make grill marks.
3. Place in a preheated 325 degree F oven for about 12-15 minutes or until cooked thoroughly. Allow to rest for 5 minutes before serving.

SERVICE
1. Serve with roasted garlic potatoes and braised kale. Nap turkey filets with Natural Turkey Glaze.
Recipe Source
National Turkey Federation