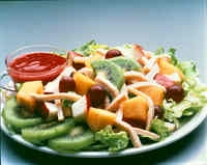 Fruit and Turkey Salad with Cranberry Salad Dressing
Ingredients:
*3 Pounds FULLY COOKED BONELESS SKINLESS TURKEY BREAST
*3-1/2 Pounds iceberg lettuce, cleaned, chilled and torn into pieces
*1-1/2 Pounds Bibb lettuce, cleaned, chilled and torn into pieces
*2-3/4 Pounds red tart apples, unpeeled & cored, cut into 1/2-inch dice
*2 Tablespoons orange juice
*6 Pounds cantaloupe, peeled and cut into 3/4-inch dice
*2 Pounds seedless red grapes
*48 Ounces jellied cranberry sauce
*12 Ounces cranberry juice cocktail
*12 Large kiwifruit, peeled and sliced
Directions:
1.Cut cooked turkey into 2-inch julienne strips.
2.Combine lettuces in a chilled large container.
3.In a separate bowl, combine apples and orange juice, mixing thoroughly to coat apples with juice. Add cantaloupe and grapes. Fold in julienned turkey strips.
4.To make Cranberry Salad Dressing, combine cranberry sauce and cocktail juice. Blend until smooth. Cover and refrigerate until service.
5.Place 8 ounces lettuce on each 6 to 8 inch plate. Arrange 12 ounces fruit mixture atop lettuce. Garnish with 4 to 5 kiwi slices. Serve each portion with 2 ounces cranberry dressing.