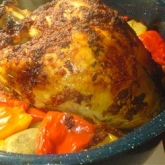 Ingredients:
*1 onion, chopped
*1 (12 ounce) jar roasted red peppers, drained and chopped
*1 cup whiskey
*1/2 cup minced garlic
*1 (22 pound) whole turkey, neck and giblets removed
*1 (7 ounce) can chipotle chilies in adobo sauce
*1 roasting bag for a large turkey
Directions:
Preheat an oven to 325 degrees F (165 degrees C).
Stir together the onion, roasted red peppers, whiskey, and garlic and place this mixture inside the cavity of the bird. Mince chipotle peppers in a food processor until about the consistency of spaghetti sauce. Rub half of the chipotles on the outside of the turkey, and place the rest inside the bird cavity. Place turkey in a roasting bag; close the bag according to the bag directions, and place onto a roasting pan.
Bake the turkey in the preheated oven until no longer pink at the bone and the juices run clear, about 3 1/2 hours. An instant-read thermometer inserted into the thickest part of the thigh, near the bone should read 180 degrees F (82 degrees C). Remove the turkey from the oven, and allow to rest in a warm area 10 to 15 minutes before slicing.