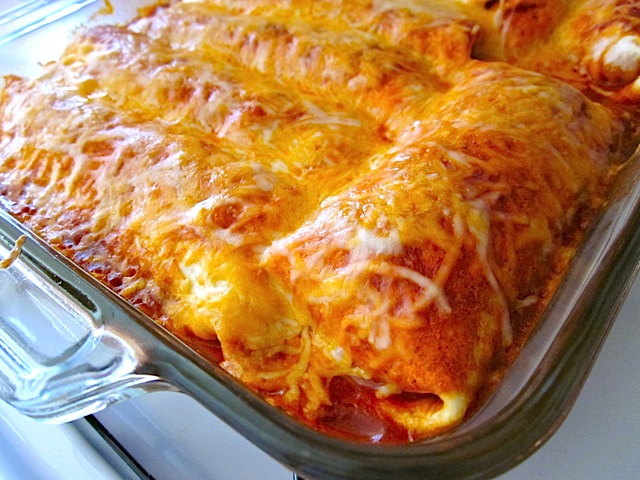 Easy Turkey Enchiladas
Recipe by The National Turkey Federation
Cook Time: 30 min
Serves: 5
---
Ingredients:
1 Cup
: 
light ranch dressing
1 Pound
: 
COOKED TURKEY, cubed or ground
10 8-inch
: 
flour tortillas
8 ounces
: 
Montery Jack cheese, shredded
1 pint
: 
refrigerated salsa
2
: 
ripe tomatoes, seeded and diced
1 small
: 
bunch red-leaf lettuce, thinly sliced
Directions:
Preheat oven to 375 degrees F.
In small bowl, mix sour cream and ranch dressing. Into medium bowl, stir 1 cup of sour cream mixture with turkey.
With the remaining sour cream mixture, spread 1 tablespoon sour cream mixture on each tortilla. Top with 1/3 cup turkey mixture, 2 tablespoons cheese and 2 tablespoons salsa. Roll up and place seam side down in greased 13" x 9" baking pan.
Bake, covered, 25 to 30 minutes.
To serve, top with diced tomatoes, shredded lettuce and any remaining salsa and sour cream mixture.
Nutrition Facts
806 Total Calories
46 g Total Fat
115 g Cholesterol
3236 mg Sodium
60 g Total Carbohydrates
37 g Protein