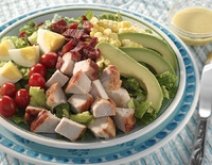 Deep Fried Turkey Cobb Salad
Ingredients:
*10 Ounces freshly squeezed lemon juice
*1/2 Cup yellow mustard
*1 Teaspoon sugar
*4 Cups extra virgin olive oil
To taste salt and freshly ground black pepper
30 Ounces chopped romaine or mesclun greens, washed, dried and chilled
5 Large ears super sweet fresh corn, kernels cut from ears
2 Large ripe avocados, peeled and sliced
5 Whole hard cooked eggs, shelled and cut in large chunks
40 Pieces grape tomatoes, rinsed, dried and chilled
*2 Pounds BONELESS TURKEY BREAST, DEEP FRIED with skin removed and cubed into bite-size pieces
*10 Pieces TURKEY BACON, cooked crisp and chopped fine
Directions:
Combine lemon juice, mustard and sugar in food processor. Slowly pour in olive oil while processor is running.
Season to taste with salt and pepper.
Cover. Can be stored in refrigerator for up to 4 days.
For each order: place 3 ounces salad greens in large salad bowl. Arrange 1/4 cup corn kernels, 3 to 4 slices avocado, 1/2 sliced egg and 4 tomatoes atop greens in long strips over the top of the greens, leaving the center free.
Just prior to serving, warm turkey breast in foil in 350 degree F oven. Layer 3-ounces warm cubed turkey down the center of the salad. Sprinkle with crumbled bacon.
Serve salad with lemon vinaigrette dressing in separate bowl.
Recipe Source
Jive Turkey