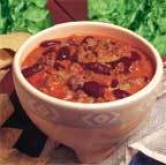 Ingredients:
*2 Pounds EXTRA LEAN GROUND TURKEY BREAST
*1 (15-Ounce) can kidney beans
*1 (12-Ounce) can Mexican stewed tomatoes
*2 (1-Ounce) packages chili seasoning mix
*1 (4-Ounce) can diced green chilies
*1 Cup plain barbecue sauce
*1 (10-3/4 -Ounce) can Cheddar cheese soup
*1 (8-Ounce) can tomato sauce
*1 Cup chopped white onion
*1 Teaspoon hot sauce
Directions:
In a large skillet, over medium heat, brown turkey, breaking it up with the back of a wooden spoon. Cook until all pink color disappears.
Combine cooked turkey and all other ingredients in a crock-pot. Cook, covered, on HIGH for 3 to 4 hours or on LOW for 6 to 8 hours.
Recipe Source
Honeysuckle White