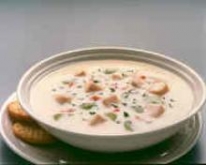 Ingredients:
celery, diced:1 Pound
margarine:1-1/2 Cups
onions, finely chopped:1 Cup
flour:3 Cups
thyme, ground:1/2 Teaspoon
salt:1 Teaspoon
white pepper, ground:1/2 Teaspoon
TURKEY BROTH, heated:6 Quarts
PULLED TURKEY or COOKED TURKEY, light and dark meat, cubed:1-1/2 Pounds
milk, heated:1 Quart
pimiento, chopped:1-1/2 Cups
fresh parsley, chopped:1/4 Cup
garlic croutons: As needed
Directions:
Cut celery into dice (1/4 inch). Melt margarine and sauté celery and onions 5 minutes until vegetables are tender.

Stir flour and seasonings into vegetable mixture. Cook 5 to 6 minutes at medium heat.

Gradually whisk turkey broth into vegetable mixture. Cook at medium heat, stirring constantly, until sauce is slightly thickened and bubbly.

Fold turkey into sauce and continue cooking 15 minutes.

Stir in milk, pimiento, and parsley. Continue cooking until a temperature of 160 degrees F is reached.

Serve each portion with garlic croutons, if desired.
Recipe Source
National Turkey Federation