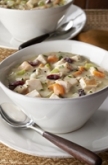 Creamy Herbed Turkey Soup
Ingredients:
Pre-Prep
*8 Cups cold water
*1-1/2 Cups 1/4-inch diced carrots
*1-1/2 Cups 1/4-inch diced celery

Heat water to a boil. Cook the carrots and celery for 8 minutes or until soft. Strain and cool in cold water. Strain, cover and reserve vegetables for service.

Soup Prep
*1/2 Pound unsalted butter
*2 Cups 1/4-inch diced yellow onion
*1 Cup 1/4-inch diced carrots
*1 Cup 1/4-inch diced celery
*2 Tablespoons minced garlic
*1-1/2 Cups white flour
*8 Cups TURKEY STOCK
*6 Cups cold water
*1 Teaspoon dried sage
*1 Teaspoon dried marjoram
*1/2 Teaspoon dried rosemary
*1/2 Teaspoon dried thyme
*1-1/2 Teaspoons kosher salt
*1-1/4 Teaspoons freshly ground black pepper
*2 Cups heavy cream
*1 Pound ROASTED OR PULLED TURKEY BREAST, cut into bite size pieces
*1/3 Cup dried cranberries, diced
*1/2 Cup chopped Italian parsley
Directions:
In a large, heavy stockpot, over medium heat, melt butter. Add onions, carrots, celery and garlic. Sauté for 5 minutes.
Reduce heat and stir in flour. Continue to cook for 5 minutes on low-medium heat, stirring until smooth and golden brown.
Whisk in the turkey stock. Blend with a hand held mixer until smooth.
Add water, herbs and seasonings. Heat to 190 degrees F or a low simmer. Cook for 10 minutes on medium heat until thickened, stirring frequently.
Stir in cream, turkey, reserved cooked carrots and celery, cranberries and parsley.
Stir to combine. Cook on medium heat for 2 minutes or until piping hot.