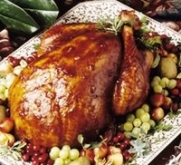 Ingredients:
Roasted Turkey
* 1 (10-12 Pound) WHOLE TURKEY, fresh or thawed if frozen
* As needed salt and freshly ground black pepper
* 2 Tablespoons butter
* 2 Medium onions, chopped
* 1 (16-Ounce) can jellied cranberry sauce
* 1/3 Cup light brown sugar

Flavorful Turkey Gravy
* 3 Tablespoons all-purpose flour
* 2 Cups TURKEY GIBLET BROTH or 1 can (14-1/2 ounces) low-sodium chicken broth
* 1/4 Cup dry red wine
* To Taste salt and freshly ground black pepper
Directions:
Roasted Turkey
Place oven rack in bottom third of oven and preheat oven to 325 degrees F.
Remove giblets from turkey. Tuck wing tips under and tie legs together with kitchen string to hold shape.
Place turkey breast-side up, on a V-shaped rack, in roasting pan. Season inside and out with salt and pepper. Cover loosely with aluminum foil. Roast 2-1/2 hours.
Meanwhile, prepare glaze. In large saucepan, melt butter over medium heat and cook onions with additional salt and pepper, stirring occasionally, 15 minutes or until very soft. (Note: If onions begin to brown, lower heat.)
Stir in cranberry sauce and brown sugar. Bring to a boil. Reduce heat to low and simmer, stirring occasionally, 10 minutes.
Remove foil and brush glaze over turkey.
Roast, basting occasionally, 1-1/2 to 2 hours, or until food thermometer, inserted in thickest part of thigh registers 170-175 degrees F. (Note: Cover turkey again with foil if it begins to get too brown.)
Remove turkey; cover and let stand 15 minutes.

Flavorful Turkey Gravy
Pour roasting pan drippings into a large glass measuring cup or gravy separator. Place roasting pan across 2 burners and return 3 tablespoons fat/clear drippings to pan. Discard remaining fat, reserving dark juices.
Stir flour into pan. Cook over medium heat, stirring constantly, 1 minute. Whisk poultry broth and wine into pan.
Continue adding 1 cup of reserved pan juices at a time, whisking to incorporate. Bring to boil and cook, stirring constantly, 1 minute or until gravy thickens. Season to taste with salt and pepper.
Serve gravy with turkey.
Recipe Source
Perdue Farms