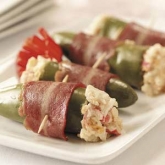 Crab-Stuffed Jalapenos With Turkey Bacon
Serves: 24
---
Product Types:
Ethnicities:
Season/Occasions:

Ingredients:
* 24 large jalapeno peppers
* 6 ounces fat-free cream cheese
* 2 teaspoons Worcestershire sauce
* 1/4 teaspoon garlic powder
* 1 package (8 ounces) imitation crabmeat, chopped
* 1/4 cup shredded reduced-fat cheddar cheese
* 12 turkey bacon strips, halved widthwise
Directions:
* Cut stems off jalapenos; remove seeds and membranes; set aside. In a small bowl, beat the cream cheese, Worcestershire sauce and garlic powder until blended. Stir in crab and cheddar cheese.

* Transfer to a resealable plastic bag; cut a small hole in a corner of the bag. Pipe filling into jalapenos. Wrap each with a piece of bacon; secure with toothpicks.

* Place on an ungreased baking sheet. Bake at 350° for 40-50 minutes or until peppers are crisp-tender.