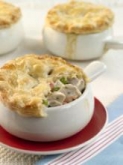 Ingredients:
vegetable oil:1/2 Cup
fresh thyme, chopped:1 Tablespoon
fresh parsley, chopped:3 Tablespoons
shallot, chopped:1 Medium
garlic, chopped:4 Cloves
WHOLE TURKEY:1 8-Pound
white onion, diced:1 Large
celery, diced:4 Ribs
carrots, diced:2 Large
dry white wine:1 Cup
TURKEY STOCK:1 Quart
shelled fresh peas:1 Cup
sliced button mushrooms:1 Cup
chopped red skinned potatoes:1 Cup
heavy cream:2 Cups
salt and freshly ground black pepper:To taste
unsalted butter, softened:1/4 Pound
all-purpose flour:1/2 Cup
puff pastry, cut in rounds to fit ramekins:
3 Pounds
egg, beaten with 1 teaspoon water:1 Large
Directions:
In a small bowl, mix together oil and 1-½ teaspoons each thyme, parsley, shallot and garlic. Reserve remaining herbs.

Rub oil-seasoning mixture over turkey. Place turkey on a tray, cover with plastic wrap and refrigerate overnight.

Place turkey on a rack in a shallow roasting pan in a preheated 450°F oven.

Immediately reduce temperature to 350°F. Roast turkey for about 2-½ hours or until a meat thermometer inserted into the thigh reads 175°F.

Remove turkey from the oven and let cool slightly. Remove skin and meat from bones. Cut turkey meat into 1-inch pieces and reserve. Discard skin and bones.

Discard all but 3 tablespoons pan drippings in the roasting pan. Heat drippings in pan on stove top.

Add onion, celery and carrots and sauté over medium heat for 3 minutes, until tender.

Add wine to deglaze pan, loosening any browned bits on pan.

Add turkey stock, peas, mushrooms and potatoes. Bring to a boil over medium heat.

Add heavy cream and reserved thyme, parsley, shallot and garlic. Season with salt and pepper to taste.

Bring to a boil over high heat and add shredded turkey.

Bring back to a boil. Reduce heat and simmer about 5 minutes, until ingredients are fully cooked.

In a small bowl, combine the butter and flour into a paste.

Slowly stir butter-flour mixture into turkey mixture until it is combined and mixture is thickened.
Baking

Ladle turkey mixture into 8-ounce individual ramekins. Cover each with puff pastry circles, allowing a 1-inch overhang. Crimp pastry to edge of the bowl.

Using a fork, gently prick pastry to allow steam to escape, being careful not to break the dough.

Gently brush egg mixture over the surface of puff pastry.

Bake in a preheated 350°F oven for 12 to 15 minutes, until pastry edges are brown.
Recipe Source
Chef and Proprietor Walter Staib