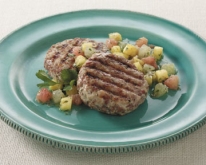 Chef Martin's Turkey Sausage w/ Citrus Salsa
Serves: 20
---
Product Types:
Ethnicities:
American
Season/Occasions:
Ingredients:
Sausage Patties
5 Pounds GROUND TURKEY
2 Pounds TURKEY BACON, minced
1 Small white onion, minced
6 Cloves fresh garlic, minced
1/3 Cup dried sage
2 Tablespoons dried cumin
2 Tablespoons dried coriander
2 Tablespoons salt
1 Tablespoon freshly ground pepper
1/4 Teaspoon dried red pepper flakes
1/2 Teaspoon dried thyme

Citrus Salsa
2 Quarts fresh pineapple, peeled
1 Quart grapefruit, peeled and sectioned
4 Medium oranges, peeled and sectioned
4 Medium limes, peeled
2 Medium lemons, peeled
1/4 Cup fresh cilantro leaves, chopped
1/4 Cup sugar
1 Teaspoon salt
2 Teaspoons cayenne pepper
1/3 Cup tequila
Directions:
Sausage Patties
1. Gently but thoroughly mix turkey, bacon, onion, garlic, herbs and seasonings. Form into 4-ounce patties.
2. Spray grill rack with nonstick vegetable spray. Prepare grill for direct cooking method. Place sausage patties on grill rack, 4 inches from the heat, over medium heat.
3. Grill about 5-6 minutes per side or until the internal temperature reaches 165 degrees F. Salt to taste.

Citrus Salsa
1. Dice pineapple, grapefruit, oranges, limes and lemon. Combine in mixing bowl with remaining ingredients. Cover and refrigerate.

Service
Serve 2/3 cup chilled salsa as an accompaniment to turkey sausage patties.
Recipe Source
National Turkey Federation