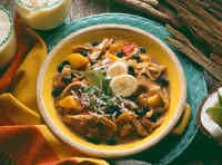 Ingredients:
Stew
*1 Tablespoon canola oil
*2 Pounds TURKEY THIGHS, skin removed
*3 Cups thinly sliced onions
*1 Cup TURKEY BROTH
*1 Can (16 ounces) stewed tomatoes, drained
*1 Pound butternut squash, peeled and cut into 1-inch cubes
*1 Pound sweet potatoes, peeled and cut into 1-inch cubes
*1/2 Teaspoon red pepper flakes
*1/2 Teaspoon salt
*1/4 Cup sweetened flaked coconut
*1 Can (16 ounces) black beans, drained
Assembly
2 Medium bananas, sliced
10 green onions, sliced
1/2 Cup sweetened flaked coconut
1 to 2 limes, cut into wedges
Directions:
In 5-quart Dutch oven, over medium-high heat, brown thighs in oil about 3 minutes per side. Remove and set aside.
In same pan, sauté onions 2 to 3 minutes or until translucent. Add broth, tomatoes, squash, sweet potatoes, red pepper, salt, 1/4 cup coconut and turkey thighs.
Bring mixture to a boil; immediately reduce heat, cover and gently simmer 1 to 1-1/4 hours, or until turkey thighs register 165 degrees F on meat thermometer inserted into thickest portion.
Remove turkey thighs from stew and strip turkey from bones with a fork; disgard bones.
Return turkey strips to stew and stir in beans. Heat throughout, just until bubbly.
To serve, spoon stew into bowls and garnish with bananas, green onions and coconut. Squeeze lime juice over top.
Recipe Source
National Turkey Federation