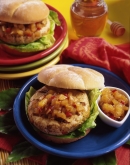 Caribbean Turkey Burger w/ Honey Pineapple Chutney
Serves: 4
---
Product Types:
Ethnicities:
Season/Occasions:

Ingredients:
Honey Pineapple Chutney
1 Ripe fresh pineapple, peeled and cut into 1/2-inch slices
1 Large sweet onion, peeled and sliced 1/2-inch thick
1-1/2 Tablespoons vegetable oil
1/3 Cup honey
1/4 Cup red wine vinegar
1 Tablespoon grated orange peel
1 Tablespoon peeled and grated fresh ginger root
1/4 Teaspoon ground allspice
1/4 Cup red bell pepper, seeded and minced

Turkey Burgers
1-1/4 Pounds GROUND TURKEY, extra lean
1/2 Cup Honey Pineapple Chutney
1-1/2 Teaspoons Jamaican jerk seasoning
2 Teaspoons vegetable oil
4 Hawaiian sweet sandwich rolls or potato burger buns, split and toasted
As needed butter lettuce leaves, washed, drained and chilled
Directions:
Honey Pineapple Chutney
1. Brush pineapple and onion slices with 1-1/2 tablespoons oil.
2. Using the direct grill method, grill for about 5 minutes per side over medium-high heat or until lightly charred; remove and let cool slightly. Discard tough pineapple core.
3. Finely chop pineapple and onion and place in a medium saucepan with honey, vinegar, orange peel, ginger and allspice; stir well.
4. Bring to a boil; reduce heat and simmer, covered for 45 minutes. Add minced bell pepper and cook for 10 minutes more; let cool.

Turkey Burgers
1. In a medium bowl, stir together the ground turkey, 1/2 cup honey pineapple chutney, jerk seasoning and 1/2 teaspoon black pepper.
2. Shape into 4 large flat patties and brush each with 1/2 teaspoon oil.
3. Using the direct grill method, grill burgers over medium coals for 5 to 8 minutes per side or until cooked to an internal temperature of 165 degrees F.
4. Serve on toasted buns lined with lettuce leaves. Place a heaping spoonful of chutney on top of each burger.
Recipe Source
National Turkey Federation