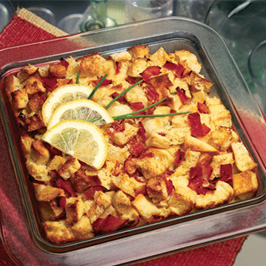 Benedict Strata
An easy make ahead take on the original eggs Benedict, this strata combines eggs with Canadian-style bacon, English muffins and lemon.
Ingredients:
1 pkg. (12 oz.) English muffins
6 slices Canadian-style bacon, chopped (4 oz.)
6 EGGS
1-1/2 cups milk
2 Tbsp. mayonnaise
2 Tbsp. fresh lemon juice
2 tsp. freshly grated lemon peel
Directions:
SPLIT muffins; cut into 1-inch pieces. PLACE 1/2 of the pieces in single layer in greased 8-inch square baking dish. TOP with 1/2 of the bacon. REPEAT layers with remaining muffin pieces and bacon.
BEAT eggs, milk, mayonnaise, lemon juice and lemon peel in large bowl until blended. SLOWLY POUR over layers in baking dish. REFRIGERATE, covered, several hours or overnight.
HEAT oven to 350°F. REMOVE strata from refrigerator; uncover and let stand while oven heats. BAKE in center of 350°F oven until puffed, golden and knife inserted near center comes out clean, 50 to 60 minutes.