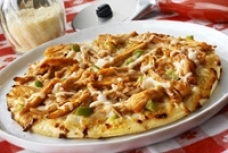 Ingredients:
*8 Ounces COOKED TURKEY BREAST, shredded
*1/2 Cup prepared honey-mustard barbecue sauce, DIVIDED
*1 16-Ounce baked cheese pizza crust
*1/3 Cup chopped sweet onion
*1/3 Cup seeded and chopped green pepper
*1 Cup shredded Mozzarella cheese
*1/4 Cup grated Parmesan cheese
*1 to 2 Teaspoons cornmeal
Directions:
Shred cooked turkey into 1/4-inch strips. Toss in a bowl with 1/4 cup barbecue sauce. Let stand for 15 minutes.
Meanwhile, place a pizza stone/pan or baking sheet on center oven rack and preheat oven to 450 degree F.
Brush remaining 1/4 cup sauce on pizza crust. Place turkey strips atop crust. Top with onion and bell peppers. Sprinkle with cheeses.
Remove stone/pizza pan from oven and dust with cornmeal.
Bake pizza in preheated oven, for 8-10 minutes, until crust is crisp and cheese bubbles.
Recipe Source
National Turkey Federation