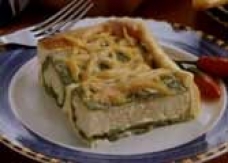 Baked Turkey Chilies Rellenos
Ingredients:
*4 Cans (4 ounces each) whole green chili peppers, drained, seeded
*Vegetable cooking spray
*1 Package (4 ounces) reduced-fat Monterey Jack cheese
*3/4 Pound FULLY-COOKED NO-SALT TURKEY BREAST, cut into 1/2-inch strips
*1/2 Cup flour
*1/2 Teaspoon baking powder
*1/4 Teaspoon salt
*1/2 Cup skim milk
*3 Eggs
*2/3 Cup grated non-fat Cheddar cheese
Directions:
Cut cheese into 1/2-inch strips. Slit chilies on one side and open flat. Arrange chilies on (11-X 7-1/2- X 1-1/2-inch) baking dish, lightly coated with vegetable cooking spray. Fill each chili half with Monterey Jack cheese and turkey (cut turkey and cheese to fit chilies). Fold over edges of chilies and place seam-side down on dish.
In medium bowl combine flour, baking powder and salt. In 2-cup measure whisk milk and eggs. Slowly add egg mixture to flour mixture, beating until smooth. Pour over prepared chilies.
Bake at 450 degrees F for 15 minutes. Remove from oven and turn off heat. Sprinkle cheese over top and return to oven 1 minute to melt cheese. Serve immediately.
Recipe Source
National Turkey Federation