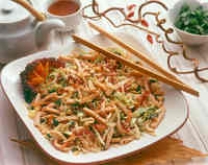 Ingredients:
Dresssing
*1/4 Cup canola oil
*2 Tablespoons freshly squeezed lime juice
*2 Tablespoons reduced sodium soy sauce
*2 Teaspoons sugar
*2 Teaspoons smooth peanut butter
*1 Teaspoon fresh minced garlic
*1/4 to 1/2 Teaspoon dried red pepper flakes
Salad
*3/4 Pound OVEN ROASTED TURKEY BREAST, cut into 1/8-inch julienne strips
*2 Cups packaged cole slaw mix
*1/4 Cup fresh chopped cilantro
*1/4 Cup chopped green onions
Directions:
In a small bowl, whisk oil, lime juice, soy sauce, sugar, peanut butter, garlic and red pepper flakes. Cover and set aside.
In a large bowl combine turkey, cole slaw, cilantro and onions. Fold dressing into turkey slaw mixture. Serve immediately.