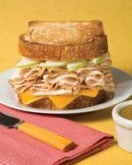 All-American Turkey & Apple Picnic Sandwich
Ingredients:
1 Large Granny Smith apple
1 Tablespoon freshly squeezed lemon juice
8 Slices potato sandwich bread
4 Tablespoons honey mustard
4 Ounces Cheddar cheese, thinly sliced
1 Pound OVEN ROASTED TURKEY BREAST, thinly sliced
Directions:
Slice apple into thin wedges. Toss slices in lemon juice to prevent discoloration.
Place bread slices on flat surface. Spread one side of each slice with mustard. Layer each sandwich with 1-ounce Cheddar, 4-ounces roasted turkey breast and 4 to 6 crisp apple slices.
Recipe Source
Copyright 2006 Boar's Head Provisions Co., Inc