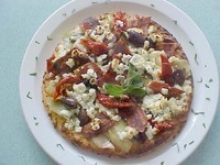 Ingredients:
32 Slices TURKEY BACON 8 8 to 9-inch uncooked pizza crusts 8 Ounces sun dried tomatoes in olive oil, cut into thick slices 8 Ounces pitted Kalamata olives, coarsely chopped 12 Ounces quartered marinated artichoke hearts As needed fresh basil leaves As needed fresh oregano leaves As needed freshly ground black pepper 24 Ounces Feta cheese, crumbled
Directions:
Preheat oven to 450 degrees F. Prepare turkey bacon according to directions. Cut into 1-inch size pieces and drain on paper towels.
Brush each uncooked pizza crust with olive oil from sun-dried tomatoes. Top with Kalamata olives, sun-dried tomato slices, artichoke hearts, basil, oregano, ground pepper and bacon pieces. Cover each pizzette evenly with 3 ounces crumbled Feta cheese.
Bake in oven until bottom crust is browned and cheese is melted, approximately 6 minutes.
Serve on individual plates with a sprig of fresh basil for garnish.
Recipe Source
Perdue Foodservice